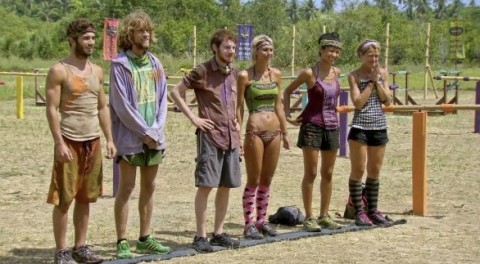 Finally. Top 5 Brenda Lowe (top picture) booted off as I predicted last week and Sherri (3rd from the right) who I gave the highest score to at the beginning of the season is still in. Just off the top no one would predict that Sherri would go this far. Shes been awful in challenges. She's older and the majority left is from another tribe. But early on I heard her reveal a winning strategy that people always forgot to use and thats …take someone to end with you that no one will let win. That clued me in that she's a strategic player. Now she is the one thats left thats should be taken to the end. Everyone on the jury would say she was carried and doesn't deserve to win and everybody else I think has at least one one challenge except her. She'd be the perfect person to take to the end because no one would vote for her to win and whoever is with her would. Everybody else on that team would be competition. She wouldn't be.
Now more about Brenda Lowe. Not a good player. Good at challenges though and everybody likes her. And sacrificing seeing her family on the island so that the team could see there's was the nicest thing anybody could do. So did she think that would make her tribe mates say "Wow! what a great lady, she should win ! " That doesn't make sense. They all want to win. Shes must have forgotten. THEY want to win and after doing that for all of her tribe members …..she would win. So the smartest move any of them could do was to make was to vote her off. She played played a physical game and with her heart but had no strategy. And thats why shes out.
Getting back to Sherri though. I'm generally about 95% correct in predicting who will voted off and who will win and my online record on this blog bears it out. This year I early off gave Sherri the highest score. but now I;m a bit concerned because shes awful in challenges and the jury picks the winner. Had she won a challenge or at least showed she was strong in challenges, or did something for the team, I think she'd stand a chance with the jury. And then there's the other problem. The majority of the jury is from another tribe and would probably only vote for a member of their own tribe not hers. So I'm going to say the best she could only come in now with is …top 3., which is still good considering the circumstances
Anybody at this point that wants to win must immediately align withe Eddie (first from the left) and Sherry
Neither Eddie or Sherri will win and both can only make top 3 comes up with a big strategic plan. She is the most strategic player everybody else is always wondering. Shes knows
Okay My predictions :
Who do I think will win. Well like I said earlier I gave Sherri the highest scores but now because she has no alliances and has been strong in challenges she can only come in top 3. Eddie will be there with her.  Dawn and Cochran are targeting each other and no one is targeting Erik (except no brain Eddie). If nothing weird happens and Cochran is next Dawn will win. If Dawn is next Cochran will win
And remember I am always about 95% in my predictions.
VOTES
Day One Rating from 5 to 1 of  Each Players (Reason for rating are below and may change)
B=Bikal Tribes Favorites     /  G = Gota Tribe-Fans  *=an original favorite
================================
| | | | | |
| --- | --- | --- | --- | --- |
| Contestants Name                                                                             |  1st  Team |   2nd  Team | Note | Rating |
| Laura Alexander wk4 |  G | | |  3 |
| Sherri Biethman |  G |  G | |  4 |
| Matt Bischoff |  G |  B | |  0 |
| Hope Driskill  wk3 |  G | | |  2 |
| Eddie Fox |  G |  B | |  2 |
| Julia Landauer |  G |  B | |  2 |
| Allie Pohevitz  wk2 |  G | | |  2 |
| Michael Snow |  G |  B | |  1 |
| Shamar Thomas wk4 |  G | | |  2 |
| Reynold Toepfer |  G |  G | |  2 |
| Andrea Boehlke |  B |  G* | |  3 |
| Brandon Hantz  wk 5 |  B | | |  2 |
| Brenda Lowe |  B |  G* | |  0 |
| Corinne Kaplan |  B |  B* | |  3 |
| Dawn Meehan |  B |  B* | |  2 |
| Erik Reichenbach |  B |  G* | |  2 |
| Francesca Hogi  |  B | | |  2 |
| John Cochran |  B |  B* | |  3 |
|  Phillip Sheppard |  B |  B* | |  3 |
|   Malcolm Freberg |  B |  G* | |  0 |
 Ratings and their meanings (different from last season) 
5 playing a wise new kind of winning strategy
4 playing a winning strategy
3 playing a old non-winners strategy
2 playing a very poor strategy
1 playing no real strategy
0 haven't seen enough to understand the strategy they are playing